Shaquille O'Neal is undoubtedly one of the greatest basketball players to ever grace the court. With four championships and multiple businesses to his name, Shaq is not just a former NBA star and businessman, but also quite the car enthusiast. In fact, he went and bought a spanking new Mercedes-Benz an hour after signing his first-ever NBA contract!
With a net worth of roughly $400 million and a keen eye for cars, the Man of Steel's garage is chock-full of cars that will leave you mesmerized. However, throughout his life, Shaq has taken quite the interest in owning, modding, and customizing cars, which only makes sense- after all, a man like Shaq, who stands out from the rest of the crowd, should be pulling up in cars that do the same, shouldn't he? In that vein, here are the coolest custom cars in Shaq's collection.
10

Dodge Challenger R/T Convertible
Droptop Customs in Florida customized a Dodge Challenger Hellcat for Shaquille O'Neal. Called the 'ShaqCat', it has a massive V8 underneath that churns out 707 hp. It comes as no surprise that Shaq had to get the top cut off and replaced with a convertible roof to fit comfortably inside the car—a trend you'd notice in many of the cars to follow.
The convertible top was sourced all the way from Germany, and always with an eye for luxury, Shaq went with customized leather seats. In fact, the original Challenger did come in drop-top form, even though later iterations didn't. All in all, Shaq wanted all the power with none of the inconvenience, and he went ahead and made his Challenger such that it delivered on both fronts.
RELATED: 10 European Muscle Cars We'd Drive Over The New Challenger Hellcat
9

Cadillac Escalade
This Cadillac Escalade has a bit of history attached to it. After all, Shaq bought it after successfully completing the only NBA three-peat this side of the century. With a custom paint job and butterfly door, Shaq customized the Cadillac further with a special Superman logo on the front grille. It's a plane, it's a bird... it's the Man of Steel with three rings on his fingers.
On the inside, Shaq had installed custom upholstery matching the paint outside, with Superman logos adorning the headrests. Of course, there is no missing the eight 12-inch sub-woofers by Autobahn, so you'll be sure to hear the car coming your way. The massive 5.3-liter V8 is going to ensure that, if (somehow) the sub-woofers don't.
8

Lamborghini Gallardo
Shaq seems to have a set pattern when he buys his cars—buy what you like, and get it customized per his size and liking. He followed this mantra when he bought his Lamborghini Gallardo as well. After all, a car like the Gallardo would certainly never be able to fit all 7 feet of the four-time NBA champ.
After his purchase, Shaq went straight to the Gaffoglio Family Metalcrafters, who usually supply their services to Boeing. To fit his giant frame, they added 12 inches to the car's wheelbase. After all, the sleek Italian sports cars are rarely ever made with giant customers in mind.
RELATED: 640-HP Honda Prelude Borrows Parts From A Boeing 747
7

Polaris Slingshot
Like most of his other cars, Shaq decided to have his Polaris Slingshot customized as well, along with getting it extended. In fact, he added two more seats to the vehicle. Thus, the 'Sling-Shaq' was born, and O'Neal ensured that he fitted it with another heavy sound system. However, even after everything, the car still seems small when Shaq sits behind the wheel of the three-wheeler.
Shaq is certainly keen when it comes to three-wheelers, as he also owns a Vanderhall Venice Roadster. A beautiful amalgamation of classic motoring style and modern construction, Shaq's Roadster churns out a mere 180-horsepower, which isn't much when compared to the other cars in his garage.
6

Ford F-650 Pickup
When it comes to Ford's lineup of pickup trucks, none other makes as much sense for Big Diesel as the F-650 does. As massive as the truck is, it has equivalent power to boot, and as it turns out, Shaq spent an extra $60,000 on customizing it to stand apart from the rest.
Apparently, Shaq spent just as much on customizing his F-650 as he did on taking it off the dealership's hands. Wade Ford of Super Trucks is the one who helmed the customization, and Shaq turned it into a Terminator-themed F-650 which he later sold.
RELATED: The Fascinating History Of The Ford F-650
5

Vaydor Roadster
No, Shaq's Vaydor Roadster isn't a car on its own—it's a custom-mod kit that sits on top of an Infinity G35. In order to meet his whims and fancies, Shaq hired Supercraft Custom Crafted Cars, who modified the seats, the pedals, and the dashboard to allow for Shaq's frame to sit comfortably in the car.
Popular for having featured in 2016's Suicide Squad, the Vaydor remains a little underpowered. Despite having twin-turbo and supercharged V6 options, Shaq chose the naturally-aspirated six-cylinder to power the wheels on his custom Vaydor. Thus, the 280bhp engine would be even slower with Shaq's 300-pound frame behind the wheel.
RELATED: The True Story Behind The Vaydor Supercar
4

Ferrari 355 F1 Spider
Like his Lamborghini Gallardo, Shaq had to get his Ferrari 355 F1 Spider customized to suit his fancies as well as his frame. Thus, out went the roof, and the Italian horse became a roadster. The mid-mounted engine posed problems, and as a result, the chassis and body were stretched to allow for more room.
With a special front-mounted fuel tank and the seats pulled back by nine inches, the Ferrari F1 was ready for Big Diesel. In fact, he even had the leather upholstery customized with the Superman logo on the headrests. The unique part was the custom license plate, however, with 'Shaq F1' adorning the rear bumper of the Ferrari.
3

Hummer H2S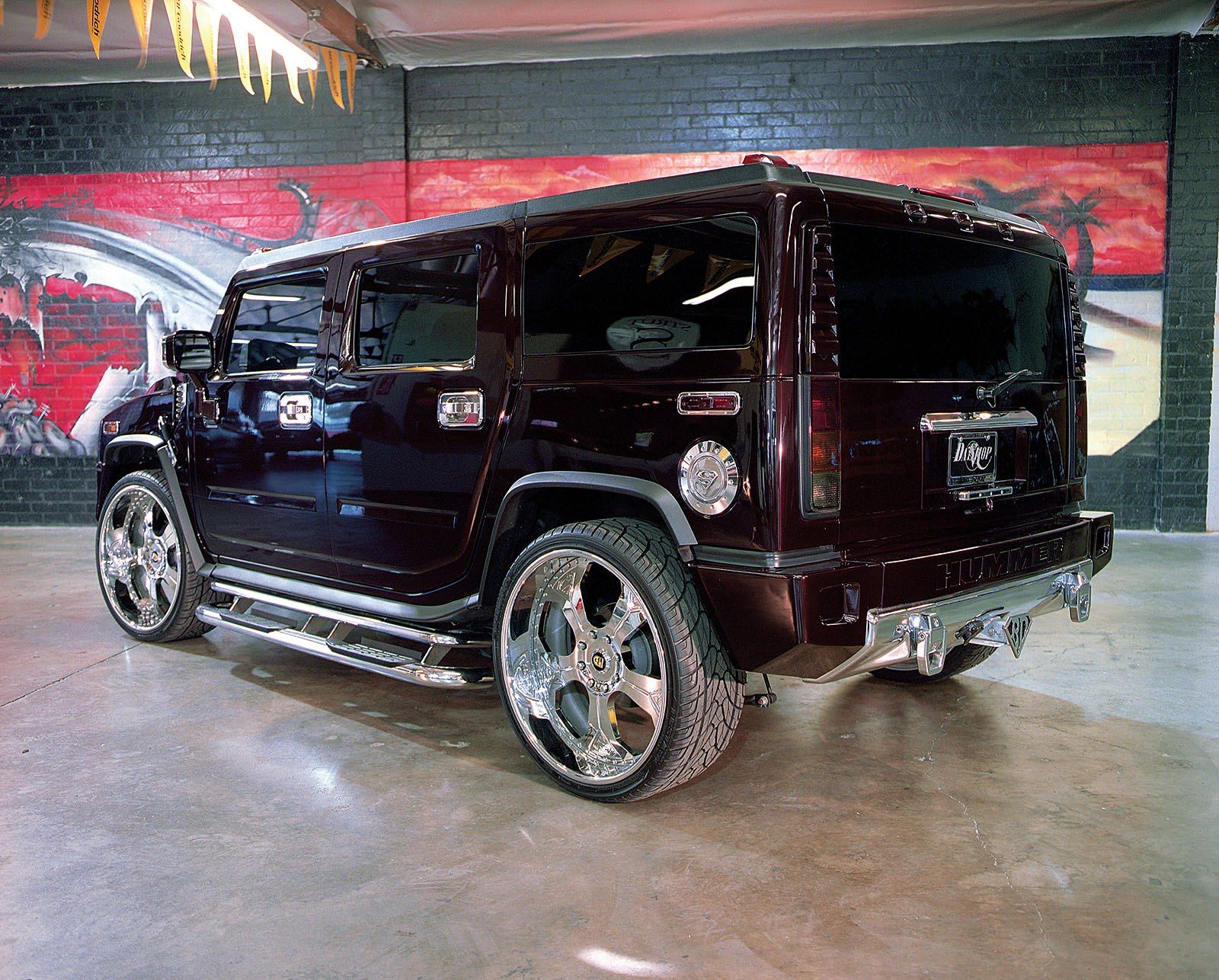 This one comes as no surprise, doesn't it? Despite the Hummer's low street-cred, there simply was no way that Shaq wasn't going to buy this humongous car, and he surely deserves some serious props for the details he gave his H2.
Furthermore, there was no way he wasn't going to customize it the way he wished. That's where the custom rims, the maroon color, and the superman logo on the wheels come in. Truly, Big Diesel's big Hummer H2 shone like no other. Additionally, lest we forget, he also had an 18-inch subwoofer installed into the SUV.
RELATED: Hummer H2 Vs Hummer EV: Here's How The New Model Measures Up To The Old
2

Cadillac DTS
Shaq's Cadillac, or as he calls it, the Shaq-A-Lac, was the first car Big Diesel brought home after signing up with the Miami Heat. Delivered to him by West Coast Customs, it came equipped with a banger of a sound system, and custom upholstery colored cream.
Though Shaq auctioned the car off in 2014, it wouldn't have been tough to buy, as the 22-inch Asanti wheels and the additional $100,000 on customizations truly made the Shaq-a-Lac an impassable offer.
1

Dodge Demon

The Dodge Demon is hands down the coolest custom car in Shaquille O'Neal's collection. Having started out as a red Dodge, Shaq got his Demon wrapped black, with the fanciest neon red colors and under glow peering through every single air vent across the expanse of the body.

He even admitted that the Demon was his favorite car, as he put many a Lamborghinis and Ferraris to shame behind the wheel of his custom Dodge. In fact, the light-up wheels on Shaq's Dodge Demon are truly something one can't take their gaze off.
Step Inside Jesse James's Private Car Collection
Read Next
About The Author